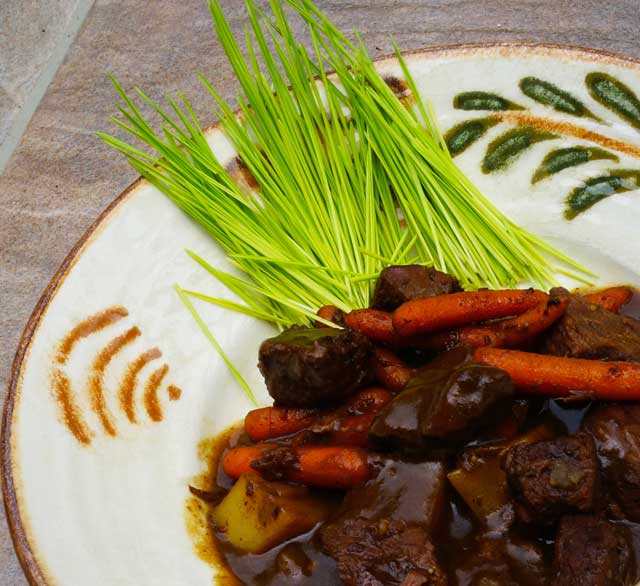 This serves six to eight—but Mr. Swann would recommend being antisocial and inviting only four people to dinner. Because the dish is even better the next day, save a good portion for yourself.
Remember to start the recipe the night before. You'll see why below.
And by the way, the word "venison" technically refers to any game, not just deer (it's from the Latin for "hunting"). It's fun to drop this factoid at a dinner party, though probably not one at which vegans are present.
Ingredients: 
3 tablespoons olive oil
1 quart of buttermilk
3 pounds venison loin, with fat and silverskin removed, cut into 1 ½ inch cubes
3 large yellow onions, chopped
2 cups baby carrots
2 large Idaho potatoes, peeled and cut in 1 ½ inch cubes
2 tablespoons minced garlic
3 bottles of stout, like Guinness (12-ounce bottles)
5 cups beef stock
3 tablespoons dark brown sugar
1 teaspoon Worcestershire sauce
2 bay leaves
2 tablespoons fresh thyme, chopped fine
Olive oil
Cayenne pepper
Salt
Pepper
Butter as needed
All-purpose flour as needed
Directions:
1. The night before serving, pierce the cubes of venison with a fork, place in a glass bowl and add the buttermilk, cover with plastic wrap. Soak until you're ready to start cooking the next day. This removes some of the gaminess of the venison.
2. When ready to cook, remove the venison and discard the buttermilk. Pat dry the meat, season with salt and pepper.
3. Heat the oil to sizzling in a Dutch oven.
4. Dredge the venison in flour then sear on all sides for several minutes until brown. (Small batches again!) Remove the meat and set aside.
5. Reduce the heat to medium and sauté the onions, stirring constantly. Cook until they're translucent, about ten minutes.
6. Add the garlic, cook until golden, about 3-5 minutes.
7. Pour in the Guinness and the beef stock. Add the bay leaf, brown sugar, cayenne and Worcestershire sauce
8. Up the heat, bring to a boil. Lower heat to simmer.
9. Add the meat and simmer, covered, for two hours.
10. Add the carrots and potatoes and continue simmering for another 45 minutes, or until the vegetables are fork tender.
11. If the sauce is too thin, make some butter manié—lazy-man's thickening agent. Mix 3 tablespoons room-temperature butter and 3 tablespoons flour together in a bowl to make a smooth paste. Ladle a cup or so of the stock into the bowl slowly and whisk together. Then slowly add ½ of the resulting liquid back to the stew pot, stirring and letting the manié cook. If the stew sauce is still too thin, repeat.
12. Serve in bowls, with plenty of crusty French bread and butter (Mr. Swann does not approve of margarine).
All Recipes: Pan-seared Beef Tenderloin  /  Beef Carpaccio  /  Chicken Cordon Bleu  /  Potatoes Anna  /  Veal Veronique  /  Asparagus with Hollandaise  /  Jerk Chicken  /  Stuffed Pork Chops  /  Short Ribs  /  Chicken Wings  /  Guinness-Venison stew  /  Chicken Costoletta  /  Ethel Rider's Hot Milk Sponge Cake  /  Peaches in Chartreuse Jelly